Posted: August 12, 2013
The "BIG" match is approaching… Limerick VS Clare… and were backing Limerick all the way!
The Limerick Hurlers take on Clare in the All Ireland Hurling Semi Finals on the 18th of August in Croke Park @ 3.30pm.  We at the Red Cow Moran Hotel are gearing up for the celebrations and will be hosting one hell of an after party…
Make sure to come along to the Red Cow Complex for the pre and post-match celebrations… Starting Saturday night with some great entertainment and Sunday – grab your pre match breakfast before heading for the big match!
The Red Cow Complex is Limericks No 1 Supporter!
We thought it would be interesting to see if anyone out there still has the Moran Limerick Jersey… If you do you WIN of a FREE PINT AT THE RED COW INN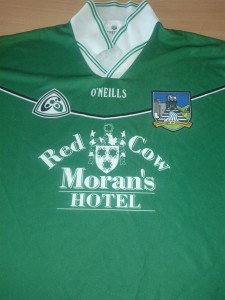 1.       Take a picture of yourself in your Moran Limerick Jersey
2.       Post it onto the Red Cow Inn Facebook Page
3.       Entries will receive a FREE PINT at The Red Cow Inn on Saturday 17th or Sunday 18th August
Wait…… send us a "wacky" image of your jersey (example:  your pet wearing the jersey)
Post it onto the Red Cow Inn Facebook Page
The Best Picture will win!!
2 Night Weekend Break including Breakfast
Winner will be announced on Friday 16th August
We at The Red Cow Moran Hotel would like to wish the Limerick Hurling Team the very best of luck on Sunday 18th of August… We all know who we will be shouting for here!
One drink per entry (Contact Bar with Facebook Profile Name to receive your Free Pint)
Terms and conditions apply
Drinks can only be redeemed on Saturday 17th & Sunday 18th August 2013
Tags: