Posted: January 10, 2013
Have you just got engaged and starting to plan your big day? Or helping a friend plan their special day?
There are so many tasks on a bride-to-be's "to do" list:
Venue
Entertainment
Church
Dress
The list goes on….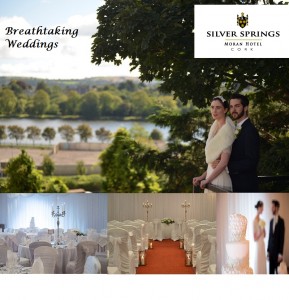 The Southern Brides Show is coming to The Silver Springs Moran Hotel on the 12th & 13th of January 2013.  The Silver Springs Moran hotel are giving some lucky couple the chance to win their wedding reception for up to 100 guests (valued at €5,000)
The Southern Brides January show is the biggest to date – you get to view all of the 140 wedding suppliers services, listen to their advice and also avail of some fantastic offers on the day.
This is one wedding show you do not want to miss when planning a wedding – From Photographers cakes honeymoons bridal dresses it's all going to be at The Silver Springs Moran Hotel.
This is the perfect day out with your husband to be, wedding party or just family and friends – make sure to see the amazing fashion show and also many wedding entertainers will perform on the day including Crystal Swing.
The Silver Springs Moran Hotel is listed as one of the best wedding venues in Munster and one of the top wedding venues in Ireland this Cork wedding venue has the 'Wow' factor – the perfect venue for your special day.
The Silver Springs Moran hotel have some great all inclusive packages available starting from €48 per person – for more information click here or call us on 021 450 7533
The Silver Springs Moran Hotel will be hosting their wedding fairs on the 23rd January & 17th February 2013 – for more information on these events, please click here
Tags: