Posted: April 5, 2011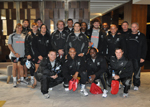 In support of the
Red Cross Christchurch Earthquake Appeal
, the
Chiswick Moran Hotel
opened its doors, free of charge, to host South Africa's Natal Sharks ahead of their Twickenham match against New Zealand's Canterbury Crusaders on Sunday March 27
th
.
The first Super XV Rugby match outside of the Southern Hemisphere, saw the arrival of a team of 34, including Springbok captain John Smit, Tendai "Beast" Mtawarira, Jannie and Bismarck du Plessis and head coach John Plumtree.
"The RFU is extremely grateful to the Chiswick Moran Hotel for allowing the Sharks team to stay with them, free of charge," said an RFU spokesman. "The devastating effects of the earthquake in Christchurch have united the rugby community and the opportunity for Twickenham to host the first Super 15 Rugby match outside of the Southern Hemisphere is one that we hope to take with both hands. The generosity of the Chiswick Moran Hotel is a wonderful gesture of goodwill and we hope that the Sharks enjoy their stay,"
Chiswick Moran Hotel's General Manager Josh Cameron said: "The Canterbury Crusaders' home stadium in Christchurch suffered major structural damage during the recent earthquake and so they were unable to host the Natal Sharks for the match as planned, as well as seven of the upcoming 2011 Rugby World Cup games. "It would have been down to the Crusaders to foot the bill for the Sharks' travel expenses for this match, so we are delighted to be able to offer complimentary hotel rooms to the team in support of the Red Cross Christchurch Earthquake Appeal".
The team enjoyed the luxurious accommodation and top class facilities of the hotel during their stay, while fans enjoyed the match in the relaxed and stylish setting of The Chiswick Moran Hotel's Globe Bar! With its three 31-inch TV screens and one 42-inch screen, the Globe Bar is the perfect venue to watch all sporting occasions! Globe Bar features one of the longest bars in London, where visitors come to sip from a choice of 58 cocktails, shots, martinis and champagne cocktails, or from the extensive beer menu that has over 25 global brands!
Unfortunately there was no win for the Sharks however and the final scoreboard read 44 – 28 in favor of the Crusaders! Better luck next time Sharks!!!!!!
Watch here to see Neil Bainbridge, Sales Manager for The Chiswick Moran Hotel, tell why the hotel was happy to host the Sharks for free as a gesture of goodwill! http://www.chiswicklife.tv/NatalSharks
Tags: