Posted: September 19, 2014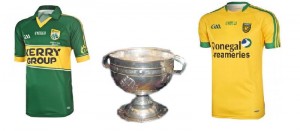 Kerry V's Donegal, the bets are on who will be crowned champions of Ireland 2014.
This will be a very tough match as both were underdogs in there semi finals this year. Kerry proved that no matter how young of a team they have that football is in their blood and that they will fight tooth and nail to come out the better team in each and all of their matches and will show up on final day with one hand already on the Sam. Donegal still have the feeling in their bones of winning such a prestigious title and they will not let Kerry attach past their very solid defence. With one of the biggest shocks in this year All Ireland Championships, beating what was thought as the unstoppable team of 2014 Dublin. Donegal are full of confidence heading into the final and know that if they keep fighting for procession and stay calm that their almighty forwards will do what they do best.
This will be the First time Kerry and Donegal have every met in an All Ireland Final, but Kerry fell short of the win against the 2012 Champions when they met in the quarter final stage of the 2012 All Ireland Championships. Kerry will be out to prove that although they haven't lifted the Sam since 2009 that they are a force to be reckoned with and that they have put the last few years behind them and are ready for what will be a final that is not to be missed.
For the Best available rates for the All Ireland Final 2014 check out Moran & Bewleys Hotels. Our Group have 5 locations in the City and all in close proximity to Croke Park. The Red Cow Inn will be open from 9 am for a carvery breakfast, 12pm for carvery Lunch and 8pm for Steak House Dinner and for all Red Cow Inn customers there ample free parking and within a short walking distance to the Red Luas Line.
The Brassiere Restaurant is located in all Bewley's Hotels and is the perfect pre or post match meeting point. Visit our websites below for more information.