Posted: December 10, 2015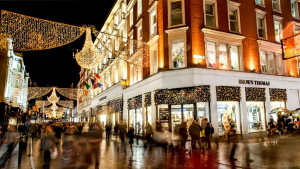 Christmas is such a crazy time of year with everyone rushing to get somewhere or do something so it's important to take time to actually experience
some of the terrific Christmas festivities happening around this great city of ours.
Dublin is a hive of activity at Christmas and there's something to suit all ages and tastes. For the kiddies a Santa visit is a must, last minute texts to Santa with wish lists are all very well but really the best medium for kids to deliver their own special requests is to talk to the man himself!
There are so many wonderful Santa experiences across Dublin but one in particular that we thought we'd highlight is the Airfield Estate Christmas Experience. A different dynamic to most Santa's Visits; instead of individual trips into the Big Man which involve queuing and waiting, waiting and queuing, the group, which is kept quite intimate go in to meet Santa together. Sitting on the floor around Santa, he chats to each of the kids and asks them individually what they would like for Christmas. Then he calls out each child's name and hands them a gift. It's a really nice relaxed affair. After meeting Santa the kids can go and write their letters to Santa and elves are at hand to stamp and help post them. They can also visit the reindeers and Santa and Mrs Claus' bedroom. Thumbs up for the Airfield Estate Christmas Experience.
Another great option for time-out during the Christmas Chaos is to do a spot of ice-skating. Certainly something a little different that is fun to do for a date night or with a group of friends. Dundrum on Ice have a great set up and there's plenty of choice for places to go for a bite and a bevvie after.
Sadly the Christmas Markets didn't happen for Dublin this year but there's always Grafton Street for the obligatory stroll on Christmas Eve to soak up the festive atmosphere. Best done when you're organised and have the shopping finished so you can observe but not have to partake in the chaos around you. It's also lovely meeting up with friends and family for 'one' before you head home to the wrapping.
For a handy guide to what's on in Dublin this Christmas visit our website www.redcowmoranhotel.com