Posted: March 11, 2011
The Marketing Institutes South Region 2011 Masked Ball will take place on Saturday 26th March at Silver Springs Moran Hotel in Cork.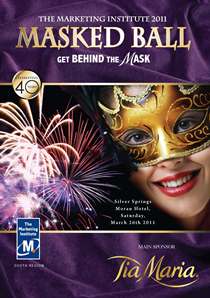 The black-tie event sponsored by Tia Maria and themed "Get Behind the Mask" will commence at the Silver Springs Moran Hotel in Cork at 7pm with a drinks reception and music from The Cuban All Stars. More entertainment will take place throughout the night and after dinner the fabulous The Swing Cats will play followed by a late night DJ.
An event with a reputation for glitz and glamour and famed for its gifts and prizes, each couple will receive a beautiful Irish gift, kindly provided by Kilkenny Group and valued at €75, a goody bag valued at €200 and have the chance to win a fabulous Michel Jeweller's diamond necklace, valued at €2,000 in the fun quiz.
The charity raffle at this year's event will be in aid of Cork Swimming Club for the Special Olympics Munster and Irish Guide Dogs – Assistance Dogs for Children with Autism, and there are over 100 prizes to be won.
Tickets are on sale NOW priced at €75 per person and table bookings are available on a first-come, first-served basis. Bookings must be made on-line, please visit  http://www.mii.ie/en/cev/198 and any booking queries should be directed to cecilia@mii.ie or on 01 2160156
Whatever the occasion, Silver Springs Hotel in Cork is the perfect choice for any event.