Posted: December 9, 2014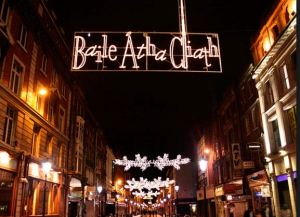 |Santa in the City| Christmas Show's in Dublin| Christmas Concerts in Dublin| Dublin Christmas Markets| Exciting Christmas Events on in Dublin City|
Tis is the season, Christmas 2014. A time to spend with your loved ones, a time to laugh and let your hair down. There are events for everyone whether you want to go out with friends and enjoy the festive party scene or if you would like to create memories with your children, Dublin City has it all. Keep reading to find out Moran and Bewley's Hotel Group Favourite Christmas in Dublin 2014 events.
You can start off your day in Dublin City Centre enjoying the festive cheer that the city brings or shopping for that perfect gift for your friends and family. To help make the lead up to Christmas less stressful Dublin City Centre has launched "Shop and Drop" for the second year running. This allows you to drop off your shopping at either Henry Street or Grafton Street and pick it up at a later stage in the day. For more information on this fantastic service click this link  http://www.dublintown.ie/whats-on-events/shop-drop-grafon-street/ This also allows you to enjoy some of the fantastic events happening around the Dublin City Centre.
Moran and Bewley's Hotel Group have picked out some of the best Christmas in Dublin Events for 2014.
Visit Santa in the City.
Mr Clause has one of the hardest jobs in the world. Visiting all the children around the world. He has made sure that this year he will get to meet all of the wonderful children in Ireland. You can visit Santa in many locations in Dublin City Centre, here are a few of the best.
Jervis Centre
Powerscourt
Wax Museum
Iiac Centre
Arnotts
St. Stephens Green.
Santa's pop up Grotto- the Grafton Quarter.
Christmas Shows on in Dublin City Centre.
7th December to 14th December- It Sounds Like Christmas- A show for the whole family all about TimTom who is different to all the other children. He has never seen Christmas. This will change and TimTom will get to experience Christmas in a very special way with the help of all the audience. The show lasts for 50 minutes and runs from 7th December to the 15th December. This will be a sell out so book your tickets now for this free event at Powerscourt Townhouse.
22nd November to 21st December – A Most Peculiar Wintry Thing- The ARK. A family show that will create fun and exciting memories for all the children. This show will also highlight the wonders of winter and help all the adults re-live all their wonderful memories from childhood. Tickets are from €9 and Family tickets are from €40.
1st December 2014- 1st January 2015- Peter Pan Christmas Pantomime. The Gaiety Theatre presents Peter Pan its 2014 Christmas Panto! He's behind you. No Christmas is complete without the annual visit to the Christmas Panto. Tickets start from €19.50 book now to avoid disappointment.
Why not treat yourself and your family and book into one of our 5 locations in Dublin City Centre and relax after all your Christmas activities. Our Hotels include 1. Red Cow Moran Hotel, 2. Bewley's Hotel Ballsbridge, 3. Bewley's Hotel Leopardstown, 4. Bewley's Hotel Dublin Airport and Bewley's Hotel Newlands Cross. Book now to avoid disappointment.
Christmas Concerts in Dublin City
10th December- Carols by Candlelight at Christ Church- A Christmas Concert that is well known and sells out nearly as fast as One Direction. This wonderful Christmas Concert will showcase the amazing acoustics of Christ Church Cathedral. The Choir will not disappoint the audience and will amaze you with their stunning vocals of all your favourite Christmas Carol's. Tickets are from €25.00
20th December- ChristChurch annual Christmas Concert- the Mornington Singers and Conductor Orla Flanagan return to Christ Church Cathedreal for their annual Christmas Concert. Tickets are from €12
19th December to 21st December- The Christmas Concert featuring the Snowman- A Concert for the whole family filled with magical carols and the very popular "Walking in the air" song. Special guest apperances by puppet animation Matthew Robins and the magical voice of Meav. Early booking is recommended, tickets are from €17.
All of our Hotels are within very close proximity off all the Christmas Concerts in Dublin City Centre. To make a booking check out our New Websites http://www.redcowmoranhotel.com/ or http://www.bewleyshotels.com/
Christmas Markets in Dublin City
13th November to 22nd December- Christmas Market St. Stephen's Green
1st December to 1st January- Guinness Storehouse first ever Christmas Store.
12th December to 14th December-Christmas Cracker Market Smithfield Square Dublin 7
For Christmas Markets near the Moran Hotels in London and Cork check out our recent blog post.
Exciting Christmas Events on In Dublin City Centre.
29th October to 22nd December- Festive Family Fun Fair @ Wolfe Tone Square.
21st November to 04th January- Christmas Kingdom at St Anne's Park.
9th December to 23rd December- IFA Live Animal Crib at Mansion House- The Grafton Quarter.
13th December- Yuletide Greeting at National Museum of Ireland.
Moran and Bewley's Hotels would like to wish all our guests a very Merry Christmas and a Happy New Year. If you haven't booked yet for your trip to Dublin City Centre call us now or check out our websites for the best available prices.
http://www.bewleyshotels.com/newlands_cross   http://www.bewleyshotels.com/dublin_airport
http://www.bewleyshotels.com/ballsbridge             http://www.bewleyshotels.com/leopardstown
http://www.redcowmoranhotel.com/