Posted: June 5, 2012
The Boys in Green have landed in Poland to take part in the UEFA EURO 2012 games, this is very exciting time as Ireland haven't quantified for the Euro's since 1988,  24 years ago.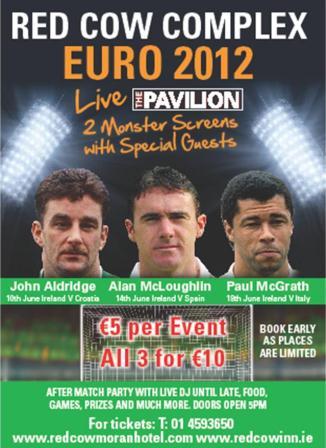 Everyone in Ireland will be glued to the match this Sunday the 10th June when Ireland take on Croatia in the first of Ireland's matches.
Join us here at The Red Cow Complex for all the action during the Euro 2012 games. Some of Ireland's favourite football heroes of Italia 90 such as; Paul McGrath, John Aldridge and Alan McLoughlin will be in The Pavilion at the Red Cow complex to let us know what they think about Ireland's performance during the first three Euro matches.
Before each game, each sporting hero will talk about their experiences leading up to big games like this one and will give their opinions on how they think Ireland will perform. They will give half time commentary along with post match analysis. Spectators can enjoy a Q&A session afterwards, make sure to think of a really good question!
There will be plenty of other fun and games on the evening including a barbeque, a penalty shoot-out for some great prizes and a live DJ after the match until late. Ireland V Croatia 10th June – Special Guest John AldridgeIreland v Spain 14th June- Special Guest Alan McLoughlinIreland V Italy 18th June- Special Guest Paul Mc Grath
FREE ENTRY IN TO HUSH NITE CLUB ON THE NIGHT OF EACH MATCH WITH EURO TICKET!
Tickets:
€5 per game or All three evenings for just €10
To celebrate this great occasion we have a great giveaway!
4 Groups of Tickets To Be Won!
There will be 4 winners and each group will win 4 tickets to watch any one of the 3 games of your choice here at The Pavilion.
All you have to do to be in with a chance of winning one of these fantastic prizes is answer the following question:
What year did Ireland last take part in the Euro's?
(HINT: You might find the answer within this blog!!)
Email your answer to: marketing@moranhotels.com with your name, contact details and the subject line 'Red Cow Euros competition'
As always you must be a fan of Red Cow Moran Hotel on Facebook to enter – like us NOW!
Entries must be in by next Thursday the 7th of June to be in with a chance of winning!!
BEST OF LUCK!!!
Terms & Conditions apply.